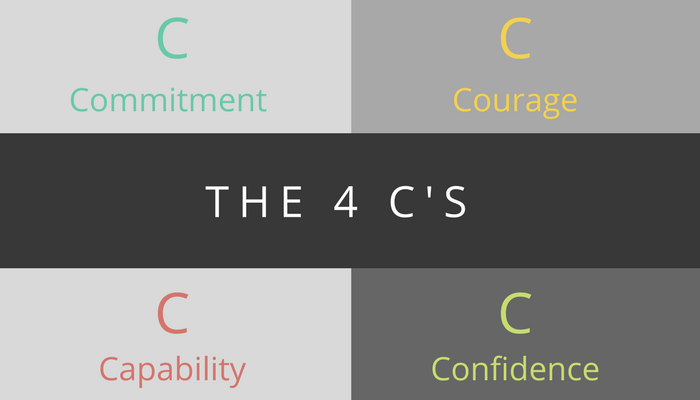 Confidence or Courage?
In the last week I've been sourcing great TED talks for my career coaching clients. I just love them as for me they bring everything to life! I'm also much more of a visual person so it helps me. There was one from Dan Sullivan that spoke to me. It's aimed at entrepreneurs but it's so relevant to us all. Whether you're someone looking at a career change, a leader taking on a new role, a coach stepping out, developing a new skill and many other situations. It involves 4 C's.
Posted in Self development
People often say 'I lack confidence' and that stops them doing whatever it is they are thinking of.

Really?

How does that confidence come?

Often from taking the step! It's the reward from taking the step.

Then the reason would be 'but I don't know how to'. I'll do it when I know how to. As Dan would say when you have the 'Capability'.

That makes sense. So what comes before Capability and Confidence?

The first that's needed is Commitment. Before you do anything you need to be committed. I always talk about that with Career change clients – they need to be committed otherwise it's not even worth working together. As coaches know, if a leader isn't committed to the coaching process then again – it's not going to work. Our role as coaches is not to drag someone along!

However commitment on approaching something new is very often scary. You don't yet have the capability nor the confidence. So what's missing?

Courage.

It's not something that's talked about much. It reminds me of the mythical 'The Hero's Journey' by Joseph Campbell. Not an easy read but when the hero steps out on his journey, he needs courage and has to trust he will find help, support and tools on his way.

Courage is so different to confidence. Courage is scary and being courageous can take time before you build capability so this scary place can be a tough place for a while. Confidence feels great!

Successful entrepreneurs always need to go through these phases as they develop their businesses. Whether you're someone looking at career change, a leader taking on a new role, a coach stepping out, developing a new skill or something else – remember the 4 C's and most importantly the order:

1. Commitment
2. Courage
3. Capability
4. Confidence

Are you committed to making a change? Contact me for an exploratory discussion. If you're looking to change career, I'd love to have you join my new Facebook discussion and virtual career coaching group.

For the wonderful 7 minute session from Dan Sullivan click here.