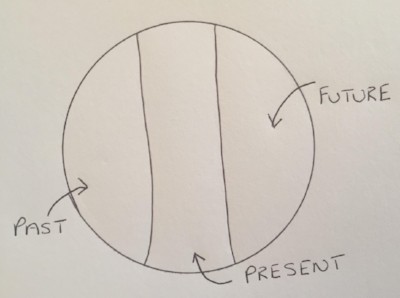 Where Do You Spend Your Thinking Time?
For me this time of year always feels like the start of a new year as school starts again. It's a time of new plans post the holiday time. This year my youngest son has just started university. A client's daughter had her first day at a new college so he was distracted. It's the start of a whole new adventure for them both. I was also reminded that it's four years since my son's granny passed away and my mind went to the Past. It brought to mind the diagram above that I first saw when I started out coaching.
Posted in Self development
The question was 'How would you divide the circle in terms of your thinking time?'
At the time it was suggested that people can dwell on the past, worry about the future and spend very little time in the present. It was a reminder that the present is a 'present' and to enjoy it. The current practice of mindfulness which I am a great believer in, encourages us to notice what is happening rather than allowing our minds to race ahead to what might happen.
As I saw online recently….'If you are depressed you are living in the past, if you are anxious you are living in the future, if you are at peace you are living in the present'.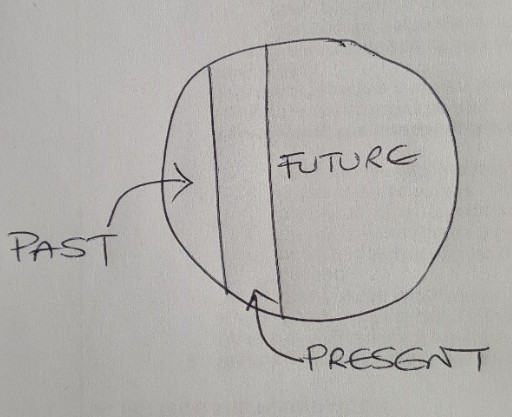 Whilst some people do dwell on the past, I observe that today there is much more focus on the future, worrying about what might happen. The diagram more like; In historian Yuvel Noah Harari's fascinating new book '
21 Lessons for the 21st Century
' he looks at the present time, but is considering the future. (His previous books '
Sapiens
' and '
Homo Deus
' covered the past and future respectively).
The trick for putting an end to our anxieties, Harari suggests, is not to stop worrying. It's to know which things to worry about, and how much to worry about them. As he writes in his introduction: 'What are today's greatest challenges and most important changes? What should we pay attention to? What should we teach our children?'. It's a time of HUGE change. Some say the next 20 years or so will bring the biggest change to humanity since the industrial revolution. A lot we could worry about yet – how much can we affect? For most of us, likely very little so whilst not ignoring the current thinking re the future, we can:
Acknowledge what could happen.
Choose what to pay attention to.
'Park' the rest.
Come back to the present by mindfulness, meditation or other techniques to stop your mind and body racing with anxiety.
The past is an interesting focus. We can ignore our past, whether that's our past roles, family, childhood. Some can see it as no value. If we look at it with a 'systemic' view; John Whittington in his constellation work talks about all the 'systems' we have belonged to as a peacock's tail. Those systems behind us whether they are family, work, groups and many more. In the western world we can ignore our ancestral families, past and consider ourselves as solitary. If we consider our individual 'peacocks tails' we have huge resources behind us. Knowing these resources can be hugely beneficial and support us even more so as we go through big changes.
So, what does this mean to you or me? Know your past, what supports you. Whilst we need to have an awareness of what might happen, avoid spending time worrying about the future as it hasn't happened yet. Rather like my son who'd prepared as best he could for University, now he is enjoying the moment, in the here and now.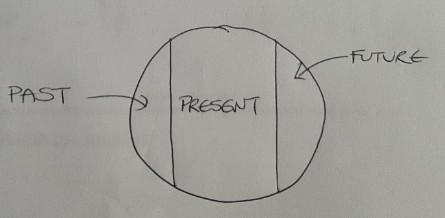 The 'present' is a gift to be enjoyed. Spend your thinking time there.
If you would like to explore being more present, know your resources from the 'sysems' you've belonged to or clarifying for the future please
get in touch
.
Events
Sample feedback from 2018 retreat attendees:
'A unique experience, spiritual and restorative retreat supporting the body, soul & mind' – Nicola, May 2018
'I gained so many things, space to think, breather etc. Reconnect to me. Development of intentions, connection to others. Thank you' - E. Williams June 2017
'I enjoyed the extroardinary environment and wonderful women. The space, time and opportunity. The peace and tranquillity. The fun' - July 2017 participant
'You won't believe how well the magic has lingered! I have been kayaking, swimming and singing and that's only the start! Thank you again - feel alive again.' - KH. July 2017
Claire

Claire Palmer is a highly experienced and accredited executive and career coach, coach supervisor and mentor, and the founder of Claire Palmer Coaching. For over 18 years she has been coaching clients through transformational change whether personal or professionally. She works in the UK and internationally, both face to face and over the phone. She is a Master Certified Coach with the International Coach Federation (ICF).